FREQUENTLY ASKED QUESTIONS
If you don't see a question listed below, we are only a phone call away
to ensure all your questions and concerns are addressed.
General Information
Do you service my area?
---
We service homes, offices, vacation rentals and production/TV/movie studios primarily in Cobb County, Fulton County and parts of Dekalb County. If you are outside of the below service areas, give us a call, we may be able to help or refer you to a great team within our awesome network. We love linking people with opportunities!
---
Does your staff speak English?
---
Yes, most of our employees can read, write and speak English. We believe this allows for the highest level of service and the best communication possible with our clients and team.
If you ever need additional assistance, you may always contact our office at 404.382.0470.
---
How do I book an appointment?
---
There are two ways you can book a cleaning, organizing and/or an errand run. On-site estimates are not required unless requested. 1. Click on any "Get a Quote" button on our website to submit a request. We will follow up with a price estimate and our availability. We may call you if we have questions in order to give you an accurate estimate. 2. Like a more personal touch? Give us a call at 404-382-0470. We'll be glad to start the conversation by understanding where you need the extra hand, address any questions about our services and provide you a quote.
---
Why should you choose Clean Tu Casa?
---
Cleaning your "space" is personal. Here's why we aim to be your trustworthy partner to handle your 'To Do' list. - We genuinely care about making you proud of our services with a 100% happiness guarantee...we're not happy until you are. - Love diversity? We respect and value different cultures and all walks of life. As a minority woman and Hispanic-owned company, we also love to communicate in Spanish or Italian if that happens to be your preferred language. - We are licensed, bonded, insured and background checked. - A well-trained employee will be assigned to your property unless the cleaning requires 5+ hours with the help of a second team member. Our solo cleaning model is the secret to our success. You'll have a chance to get to know your dedicated cleaner while he/she will quickly learn your unique needs. - All supplies & equipment are on us. We only ask to use your vacuum to avoid cross contamination, if available. - There's never a contract - our quality will keep you coming back! - Feedback is super important with us! Every comment is considered a gift to help us grow! Check out what our clients have to say.
---
Do you have a satisfaction guarantee?
---
We maintain healthy spaces with a great work ethic, commitment to service & 100% happiness guaranteed. If we missed a spot, call our office at 404-382-0470 within 24 hours of your appointment so we can reclean the area of concern.
---
---
Pricing & Policies
When do I pay for the service?
---
Credit card is required at time of reservation. Credit card will be kept on file and charged after each service is completed. Tips are also welcome and 100% goes to the cleaners. Active customers may also click here to log into their client hub to pay online.
---
Do you offer any incentives for referrals?
---
Yes! If you love our services, then we will treat you to $25 off your next service for every friend or referral who books a new recurring service with us. That is the greatest compliment we can receive!
---
How do I use Jobber and what is the client hub?
---
Jobber is our scheduling software to make it easier to manage appointments, pay invoices and communicate effectively. Our active clients have access to their own client hub link for an online experience where you can make requests, view appointments, review quotes, pay invoices or outstanding balances.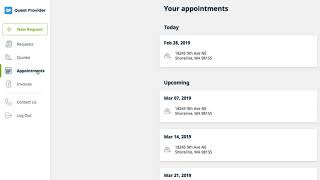 ---
---
Gift Certificates
---
My Service
What if I'm not happy with the service?
---
Service issues are rare. Your happiness is our 100% guarantee. If we do not meet your expectations, please call us at 404-382-0470 within 24 hours of your appointment and we will gladly return to re-do any unsatisfactory areas.
---
What if I have to skip or cancel my service?
---
Life happens and we're flexible. Please give 2-business day notice if you must reschedule or cancel your appointment so we are able to keep our staff on schedule. A $40 cancellation fee will be required if notice is given less than 2 business days.
---
What kind of cleaning products and equipment do you use?
---
Your health and our staff's health are important, which is why we use 'tried and true' quality cleaning supplies. Your dedicated cleaner(s) is well-trained with smart tools to ensure your space is sanitized & clean. We use regular household cleaning agents i.e. vinegar, dish soap, bathroom cleansers, all purpose cleansers, furniture polish, and EPA registered disinfectant where needed. Our team's favorite tool is a steam mop with detachable hand steamer to reduce germs and to bring out the natural shine in glass, stone, stainless steel, and sealed floors. All supplies & equipment are on us unless you have unique products you prefer. We only ask to use your vacuum to avoid cross contamination. If a vacuum is not available, we always have one on-hand.
---
What to do before your cleaning?
---
Your time matters, so don't feel like you have to do much before your cleaning. We really aim to be your extra hand with no judgements. However, we do recommend picking up clothes, toys and general clutter to keep the area safe to walk on the floor and work efficiently.
---
Do you mind cleaning homes with pets?
---
We love our client's pets! The name of your pet(s) will be on our work orders so we can bond and ensure they know we are there to help. We are familiar with handling dogs, cats and common pets. We do ask that you secure any pet that maybe a distraction or a threat.
---
How do I tip my cleaner(s)?
---
If earned, tips are a wonderful token of appreciation. Clients typically provide the tip in-person during service or call our office before 5pm on the day of service to add a tip to the credit card charge. 100% of the tip is given to your cleaner(s). Average tip is 10%-20%.
---
How do you access my property?
---
We prefer not to handle keys and require an access code (i.e. digital keypad, garage door or lock box). Please make sure the access code is working properly to ensure entry if you are not on-site. If we are not able to access your property on the day of service or you turn away service at the door, you will be charged a $40 lockout fee.
---
---
Trust & Safety
Are you licensed, insured and bonded?
---
Yes! We make safety and protection a priority. Our company has general liability insurance and all of our staff are insured and bonded. If you require proof of insurance, simply email us at info@cleantucasa.com and we'll gladly provide proper documentation.
---
Do you conduct background checks?
---
Yes, all our employees are thoroughly screened and background checked for your protection and peace of mind. We do everything we can to ensure our employees are trustworthy and honest.
---
Is my billing information kept safe and secure?
---
All of your billing information, including credit card number is kept safe and secure. You can enter your card information on our client hub or provide your card information by calling our office at 404-382-0470. Once your card information is entered, the number is encrypted and only the last four digits are visible.
---
What happens if something is broken or damaged during my appointment?
---
We do our best to prevent accidents. If an item is broken by one of our staff during an appointment, a team member will report it to our office and to you (if you are on-site). If you need to report damage, please contact our office at 404-382-0470 within 48 hours so we can offer a resolution.
---
---
Help set your expectations by viewing our checklists
​
View our checklists to understand what is included in our most popular cleaning services.
​​
​
​